Top 6 Job Profiles for B.Pharma Graduate in 2023
Trending Jobs for B.Pharma Graduates in 2023 after Course
Trying to find a job after a bachelor's in pharmacy is hard. Searching careers websites, browsing job ads and going to recruitment agencies – what should you do? The struggle is real. Considering this, the top ranking B.Pharma college in UP has come up with today's blog. We are listing the best profiles that are paying B.Pharma graduates have good salary packages.
We wrote this article to help you find your next role and let you better leverage your B.Pharma background into a higher salary and better position. In this article, you will discover new opportunities that await you in 2023, a year that many consider the start of a new era for the world of the pharmaceutical sector. Students can take this as a reference to make their careers bright.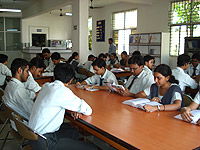 Top 6 Jobs for B.Pharma Graduate in 2023 After Course Completion
We've all had at least one bad experience when looking for a job. This can range from countless hours browsing job boards to filling in job applications, only to find out that we will have to wait to hear back from the employer. But not anymore. Check out the top-paying jobs for B.Pharma Graduates to look at in 2023.
Drug inspector
Pharmacist
Pharmaceutical marketing
Pathological lab scientist
Health inspector
Chemical/drug technician
Consult with Top Ranking B.Pharma College in UP for More Job Information
With thousands of jobs available online and millions of people applying for them, it is not hard to understand why finding a job can be stressful. Here are the five highest-paying jobs in 2023 for Bachelor's Graduates. The information is based on data collected by Indeed.com and Naukri.com. We hope this information is helpful to you, and if you still need help, consult with experts at the top ranking B.Pharma college in UP.