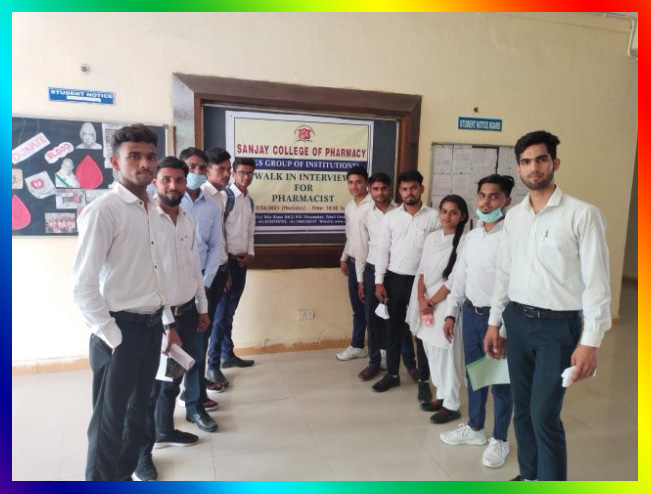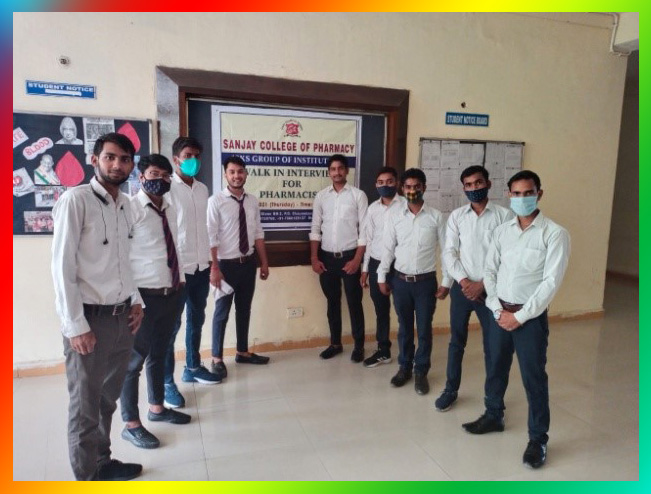 Training and Placement is an essential part of a developed and competitive institution, which is accepted as one of the most important department of pharmacy institution. At Sanjay College of Pharmacy, the active placement cell prepares a strategy for its students for training and placement with the primary aim to find a suitable and lucrative job in repu. We would like to introduce ourselves as the dynamic and target driven Training and Placement Cell of Sanjay College of Pharmacy. .
Many reputed companies came for the recruitment drive for the Final Year Students UG & Diploma Pharmacy. Maximum of students were placed in different sector (i.e., Sales and Marketing, Production, QA, QC, Pharmaceutical industry, Pharmacovigilence, Scientific writing, Hospital and Retail Pharmacist) excluding those who are interested for higher study. Number of pool campus recruitment drive was organized in SCP for Cipla, Glaxo Smith Kline (GSK), Fresenius Kabi, Patanjali Ayurved ltd., Byju's, Sasta Sundar ventures ltd., Jaro Education, Pulsus Healthtech LLP, Cognizent, Macleods Pharma, OMICS International, GSK, Apollo Hospital Enterprise Ltd.,etc.
Placement Facility
The Placement Cell provides complete support to the visiting companies at every stage of placement process. Arrangements for Pre-Placement Talks, Written Tests, Interviews and Group Discussions are made as per the requirement of the visiting companies. The Cell has modern infrastructure facilities for receiving various companies in the campus.
SCP has the followings Infrastructure:
Rooms with LCD projectors can be provided for induction.
Cabin/rooms can be provided for conducting aptitude tests, group discussion and interview.
A team of dedicated placement committee members to take care of logistics and all other related issues regarding campus placement, on campus.
Hospitality: We take good care of our recruiters in terms of hospitality.
Our Recruters 
The relentless and multi-faceted efforts of the Training & Placement Department of SCP  resulted in countless successful student recruitments across the country. Here is the list of Recruiters of SCP Students: