Top 5 Department Facilities at Best B.Pharma College in UP
Best B.Pharma College in UP: An Overview of Department Facility Offered
A professional qualification plays a pivotal role in our lives. It helps you achieve new heights and explore your potential to the fullest. To become eligible for an appropriate job or pursue further studies, one must complete their education with the best B.Pharma college in UP, like Sanjay College of Pharmacy. 
There are several B.Pharma colleges in Uttar Pradesh that provide students with quality education and excellent career opportunities after graduation. The state has several options for pursuing this degree so that you can select the right institution for you. However, before making that decision, it's essential to understand what exactly B.Pharma entails and what sort of department facility each college offers.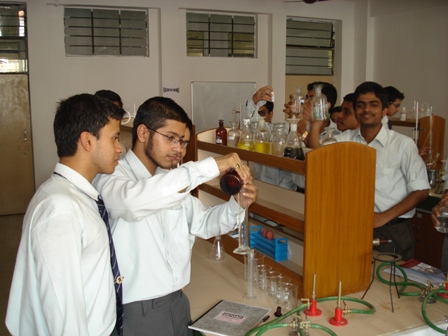 Here's an overview of some of the best colleges offering B.Pharma in UP.
Modern Department Facility Students Find @Best B.Pharma College in UP
Pharmaceutical Chemistry Department
Pharmaceutical Department
Pharmacognosy Department
Pharmacology Department
Advanced Biotechnology Department
Pharmaceutical Chemistry Department
The Pharmaceutical Chemistry Department is meant for developing fundamental knowledge and critical thinking to become effective pharmaceutical scientists and advisors. The Central Instrumentation Lab provides an instrumentation facility for students and faculty to conduct analytical practical and research work. Our pharmaceutical chemistry department is well-equipped with modern equipment, including
HPLC Visible & UV Spectrophotometer
Digital Balance
Conductivity Meter
DIgital PH Meter
Flame Photometer Conductivity Meter
Brookfield Viscometer, etc.
Pharmaceutical Department
 The Department of Pharmaceutical department at Sanjay College of Pharmacy was started to train students on all aspects of Pharmaceutics properly. The faculty members have the good background experience and knowledge and help students in practical sessions. This department aims at making students experts in the following subjects.
Physical Pharmacy
Dispensing Pharmacy
Unit Operation
Pharmaceutical Technology
Community Pharmacy
Biopharmaceutics
Pharmaceutical Engineering
Pharmacognosy Department
The Pharmacognosy Department at Sanjay College of Pharmacy is equipped with various sophisticated technologies used to evaluate crude drugs and their active constituents. The laboratory has a well-equipped lab for the effective separation and purification of oil drugs by chromatography, TLC and HPLC and includes exclusive equipment, like
Phase Contrast Microscope
TLC Apparatus with Chamber
Scanning Electronics Microscope
3D Transmission Electron Microscope
Autoclaves & Microcentrifugator
Pharmacology Department
The Pharmacology department, Sanjay College of Pharmacy, aims to teach students about human Anatomy & its functions & pathology. Besides, the department teaches students about drug doses and its mechanisms of action through various experiments. The department is well-equipped with the following equipment,
Rotarod & Pole Climbing Apparatus
Convulsiometer
Analgesiometer
Computer Software for Pharmacology Experiments' Demonstration
Advanced Biotechnology Department
A proper understanding of the fundamentals of biotechnology, microbiology and related concepts is essential for B.Pharma students. It will help them carry out various experiments like preparation of media for growth and cultivation, isolation and cultivation of microorganisms, DNA extraction and gel electrophoresis, among others. This department is at the best B.Pharma college in UP aims at helping students understand the following concepts.
Genomic DNA Extraction
Gel Electrophoresis
Determination Salivary Amylase, etc.
Choose SCP for Admission in B.Pharma Course
Perhaps the most challenging phase of your life begins after class 12. Once you complete your class 10, it's time to take a moment and analyze your strengths and weaknesses. At this point, you need to choose a stream that you want to pursue further as an undergraduate with the help of B.Pharma College in Uttar Pradesh.
Students who have completed their class 12 are eligible to apply for admission in B.Pharma colleges across India. All these colleges come from different universities, so you should research well before choosing one. But if you want to study at the best B.Pharma college in UP, look no further than Sanjay College of Pharmacy to avail the best facilities.