Top 5 Benefits to Get from the Best B.Pharma College in Agra
Best B.Pharma College in Agra: Top 5 Benefits of Doing Bachelors in Pharma
There is a lot of demand for a B.Pharma degree in the pharmaceutical sector. The growing number of graduates in this field will help you to get an excellent job in the pharmaceutical industry. In addition, there are many opportunities for you to work with research and pharmaceutical companies. The early job opportunities are also a significant advantage of doing a Bachelor's in Pharma. You can start your career early and get experience in this field. Also, a degree from the best B.Pharma college in Agra, like Sanjay College of Pharmacy, will give you an edge over other applicants who do not have a good education or have studied elsewhere.
So, without wasting time, let's discuss the top 5 benefits of doing B.Pharma in 2023.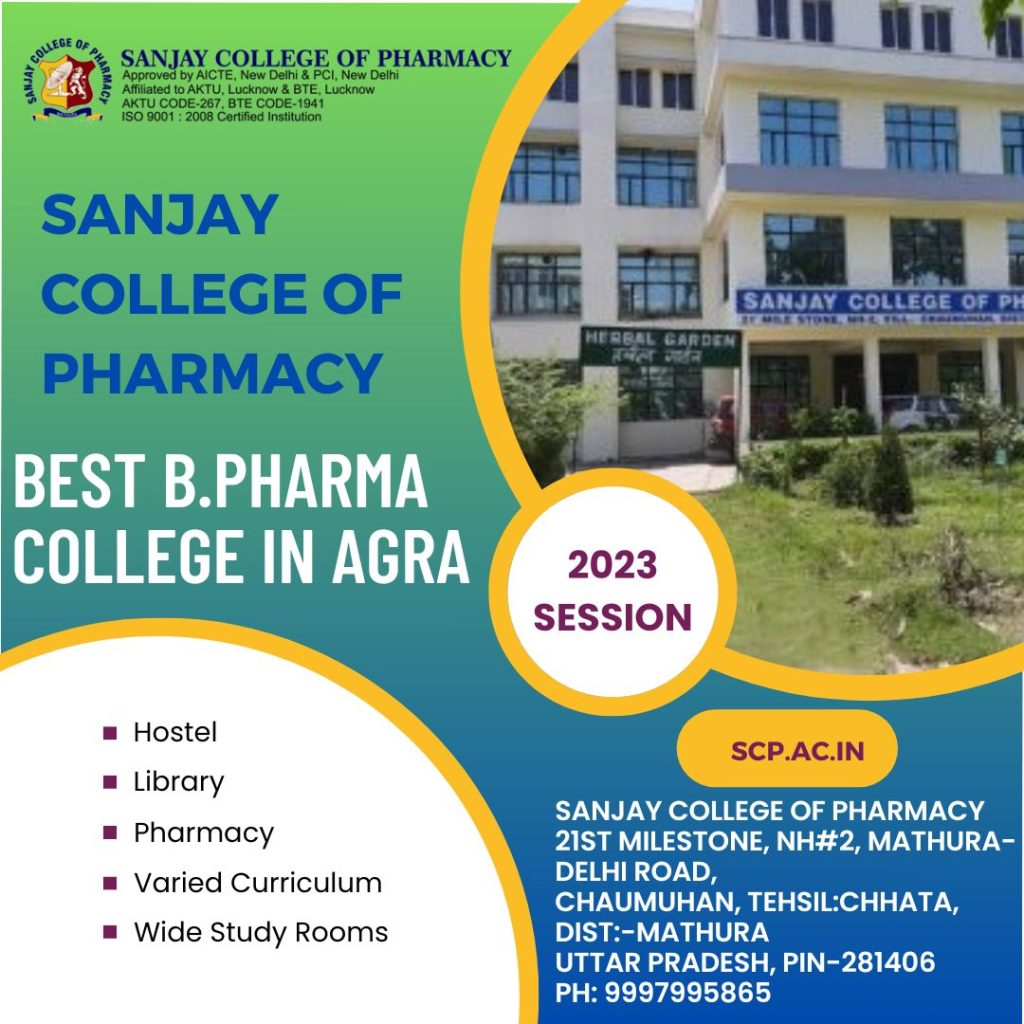 Top 5 Benefits of Doing Bachelors from Best B.Pharma College in Agra
The pharma sector has been one of India's most sought-after career options. The industry has been multiplying and is on the verge of becoming one of India's most important industries.
The pharma industry is expected to reach $ 148 billion by 2025 and $ 305 billion by 2035. In addition, it is also predicted that the number of jobs in the pharma sector will increase from 2.5 million to 3.4 million by 2020 and 4.6 million by 2025. This means that there are plenty of opportunities for every aspiring pharmacist or doctor who wants to work in this field!
The best B.Pharma college in Agra, like Sanjay College of Pharmacy, are not just about getting a good education but also about getting all the benefits that come with it. Let's talk about these benefits in detail in the next section.
1. Always in Demand
Being in demand means you can always find a job if there is one available. Most students who go through these programs end up getting jobs after completing their studies because they already have hands-on experience while studying with them and therefore have the edge over other candidates who have not yet gone through such programs.
2. Early Job Opportunities
When you do your master's or doctorate, it takes time to get employed because most companies prefer to recruit post-graduates or candidates with at least two years of experience. So, having a bachelor's from the top pharma institutes is ideal for having multiple job opportunities at your back.
3. Growth Potential
The B.Pharma course helps you build an understanding of all areas related to pharmaceuticals, from chemistry and biology to pharmacology and toxicology. This allows you to develop your skills and knowledge in these areas, which will help you when it comes time for job hunting or even when starting up your own business in this field.
4. Work Flexibility
You should never forget that working as a pharmacist requires regular day-to-day activities such as servicing customers or making medicines, so having a flexible lifestyle is essential for success in this profession.
5. Multiple Job Options
There are so many job openings that even freshers are getting recruited. This means you get an opportunity to work with a great company early in your career. The growth potential of a pharmacist is very high, and you can make a name for yourself by opting for this course. Besides, there are multiple job options available for B.Pharma graduates.
Select SCP as the Best B.Pharma College in Agra to Get the Above Benefits
It's no secret that the pharmaceutical industry is booming. It's also no secret that this field of study is one of the best options for job seekers in India. The demand for B.Pharma graduates is high, and they can easily find places in reputed companies across the globe. So, if you want to avail the benefits mentioned above, you must enrol on the best B.Pharma college in Agra, like Sanjay College of Pharmacy. Explore our official website for more information on the facilities you'll get after admission.