Safe Future @SCP: Admission in D.Pharma College in Delhi NCR 
Secure Your Future & Admission in D.Pharma College in a Delhi NCR 
Are you an aspiring pharmacist looking for the best D.Pharma College in Delhi NCR to kickstart your career? Look no further! As Sanjay College of Pharmacy, located in the serene city of Mathura, Uttar Pradesh, has emerged as a top-notch destination for students not only from UP but also from the bustling Delhi NCR region. What sets SCP apart is its unwavering commitment to providing world-class education. It's the reason why students prefer us for admission in D.Pharma College in Delhi NCR.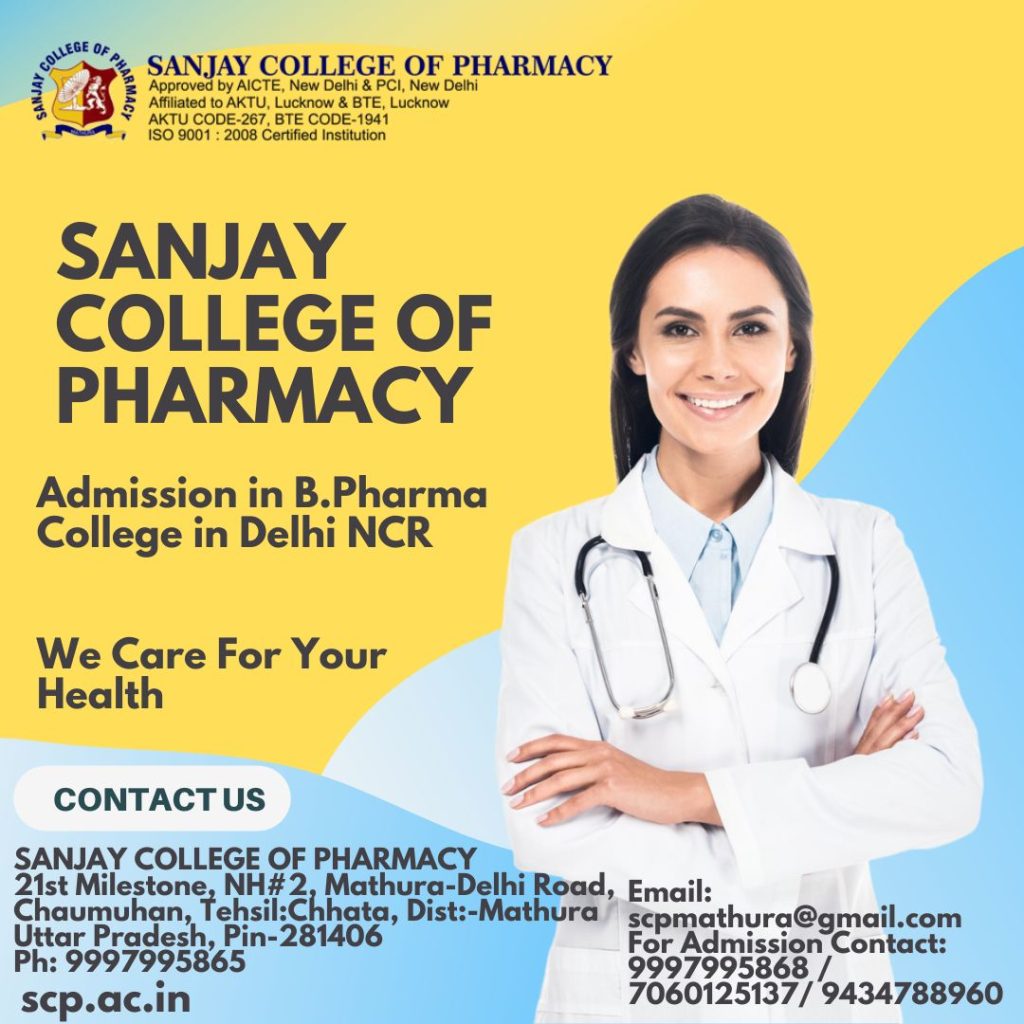 We are known for our exceptional placement facilities, making it a center of attraction for ambitious students seeking a promising future. So, in today's blog, we will talk more about the placement facilities offered by one of the renowned institutes in Uttar Pradesh.
1. Industry Partnerships:
SCP has fostered strong ties with industry leaders, ensuring that our students have access to a wide range of placement opportunities.
2. Career Guidance:
After admission in D.Pharma College in Delhi NCR, only a few students get access to career guidance.  But with SCP, our experienced mentors offer personalized career guidance, helping students make informed decisions and chart their path to success.
3. Mock Interviews and Workshops:
To boost students' confidence and readiness, SCP conducts mock interviews, workshops, and seminars that focus on enhancing essential skills.
4. Alumni Network:
Joining SCP means becoming a part of a thriving alumni network that opens doors to valuable connections and mentorship.
Choose SCP for Its Outstanding Placement Facilities for D.Pharma Students
Embark on a journey of excellence with Sanjay College of Pharmacy and secure your future in the dynamic field of pharmaceuticals. Experience the perfect blend of academic brilliance that only some students will get after admission in D.Pharma College in Delhi NCR.
But with Sanjay College of Pharmacy, the case is entirely different. Each of our students gets the exceptional placement facilities that make SCP a center of attraction for aspiring pharmacists not only in Mathura but also in Delhi NCR.