Best D.Pharma College in Mathura: What to Look Before Making Any Choice
Want a Career in Pharmacy? Best D.Pharma College in Mathura Might Be the Key
Today, a diploma in pharmacy is a strong professional background that many students choose as their gateway into the pharmacy workforce. While some may view a bachelor's degree as the minimum requirement to be a pharmacist. As per the best D.Pharma college in Mathura, the fact is that combining classroom study with clinical practice enables pharmacists to become more effective nurses, nursing assistants, and other healthcare professionals.
So, it's better to plan to obtain your high school diploma first. Once you have that under your belt, look for the best college, like Sanjay College of Pharmacy, that provides you with both classroom and clinical experience. Besides, there are several factors that one needs to review before picking any college. Do you know what those points are? If yes, then you have landed at the right place. In today's blog, we have prepared a list of factors that every student must look at in a college before finalizing the college for admissions.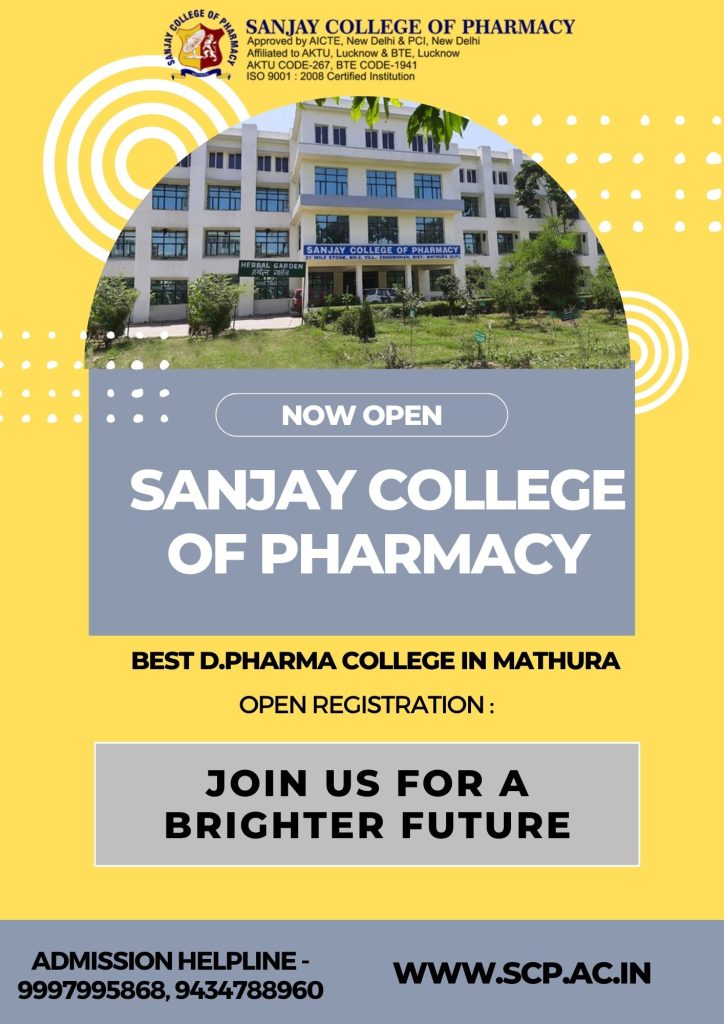 Key Characteristics To Look in the Top D.Pharma College in Mathura
Pharmacy is a field that's expected to grow by 2025. With so many new opportunities, knowing where to start looking for your ideal job can be challenging. For those who want an education in pharmacy and not just an associate degree, there are a variety of options out there. Many students choose a D.Pharma degree as their gateway into the pharma industry because it's the essential professional background for many healthcare professionals.
Thus, it's crucial to pick the right college to help students with the following aspect, and Sanjay College of Pharmacy is one of them. Look at the best D.Pharma college in Mathura has to offer to train students.
Hands-on Learning along with Clinical Practice
Calls Top Pharma Companies for Placements
Prepare Students for Industry to Have a Successful Career
A diploma in pharmacy is an excellent choice for students looking for careers in pharmaceuticals or retail pharmacy. Now, let's see what SCP offers in the next section.
Hands-on Learning & Clinical Practice
Programs combining classroom study with clinical practice will offer you hands-on learning and help prepare you for jobs as a pharmacy technician, medical assistant, or even nurse practitioner. The rising demand for qualified healthcare professionals with diplomas in pharmacy makes it possible to find jobs at startups and large pharma companies.
Calls Top Pharma Companies for Placements
There is a growing demand for pharmacists with the knowledge and skills to work in modern pharmacy businesses. This is because pharmacists play a key role in the pharmaceutical industry. In today's world, more and more people are looking for jobs that offer long-term security. That's why over the past few decades, pharmacy has become one of the most sought-after – and also one of the most challenging – medical fields to become a pharmacist in.
Prepare Students for a Better Career
With so many opportunities to study, it can be challenging to know where to begin. Luckily, graduate programs in pharmacy provide students with training that not only prepares them for working in a pharmacist career but also makes it one of the most rewarding jobs available today.
Prefer SCP as the Best D.Pharma College in Mathura in 2023
Today, more than ever before, a bachelor's degree is not enough to secure a good-paying job. Because of the rapidly growing demand for pharmacists, several pharmacy schools are now offering degrees in addition to the traditional B.S. in Pharmacy program. Some universities and colleges now offer a bachelor's degree and a diploma in Pharmacy.
But why choose to get a pharmacist diploma? After all, the D.Pharma course is the gold standard for securing entry-level jobs as a pharmacist or an assistant pharmacist. The best D.Pharma college in Mathura, like Sanjay College of Pharmacy, that offers a diploma in pharmacy can help you build on your current knowledge and experience and expand your horizons with new career options.