Top Ranking D.Pharma College in Mathura & Its Department Facility
Departmental Facilities @ Top Ranking D.Pharma College in Mathura
In today's competitive landscape, a typical pharmacy graduate is expected to possess a comprehensive understanding of various crucial subjects. It includes pharmaceutical chemistry, pharmaceutical sciences, pharmacognosy, and pharmacology. Students who do not specialize in any of these areas often find themselves under performing and struggling to secure decent job opportunities upon graduation. Therefore, it is of paramount importance to thoroughly evaluate these aspects before finalizing your choice of the top ranking D.Pharma college in Mathura.
If you seek to access these vital resources from the outset of your academic journey, Sanjay College of Pharmacy emerges as the optimal destination for admission. In today's blog, we will provide you with an overview of the diverse departments at Sanjay College of Pharmacy and the facilities you can expect to benefit from upon admission. Let's embark on this informative journey!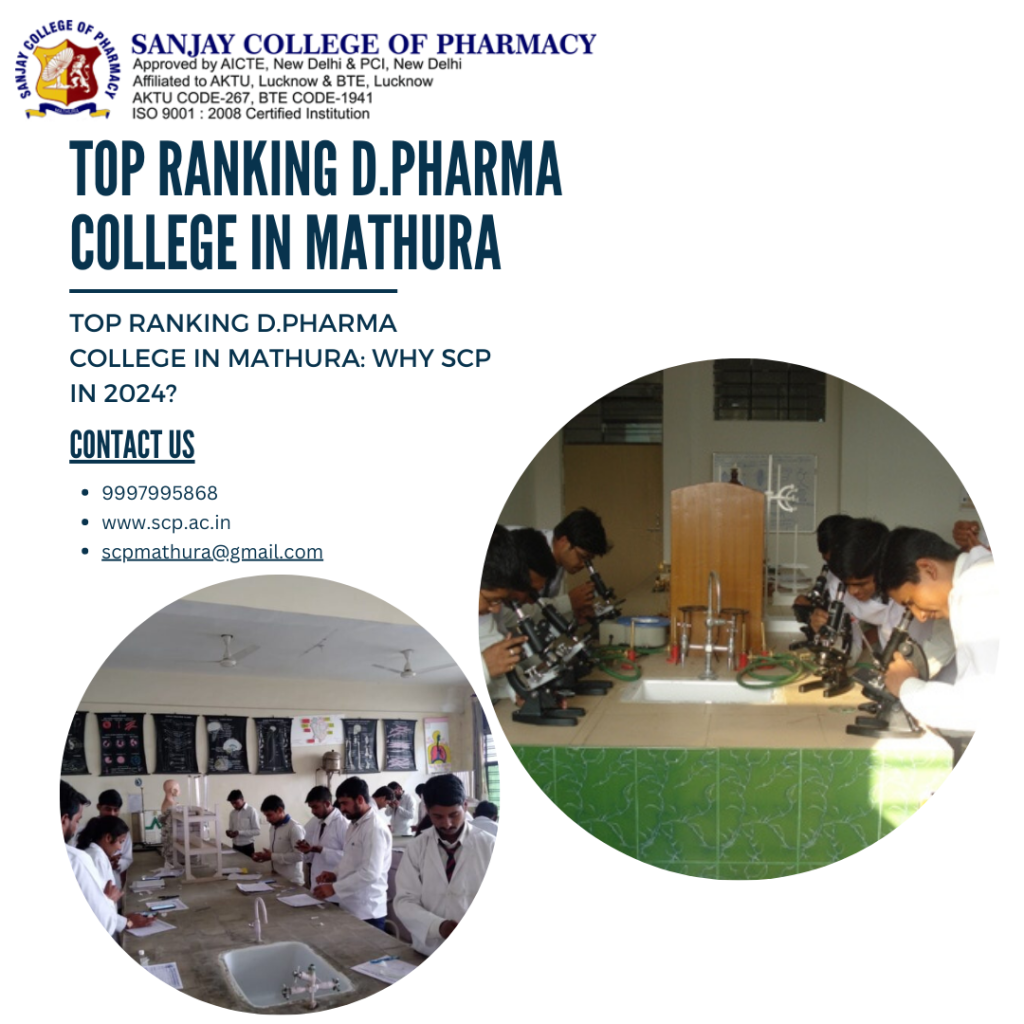 Significance of Departmental Resources for D.Pharma Scholars
The Pharmaceutical Chemistry Department plays a pivotal role in equipping D.Pharma students with a comprehensive understanding of pharmaceutical chemistry. This encompasses an extensive range of topics, such as the physical and chemical attributes of drugs, the theoretical and practical facets of drug design, bioinformatics, and medicinal chemistry.
Additionally, this department actively fosters research endeavors, spanning both undergraduate and graduate levels, focusing on various aspects of pharmaceutical chemistry, drug discovery, development, medicinal chemistry, and pharmacology. Its primary emphasis lies on the exploration and development of novel antibacterial agents.
Departmental Facilities @ Sanjay College of Pharmacy
Sanjay College of Pharmacy has created specialized departments to cater to the diverse needs of its students. These departments offer contemporary learning methods and advanced techniques for the production of Active Pharmaceutical Ingredients (APIs) and finished dosage forms.
In addition, students delve into the intricacies of basic pharmacology, covering topics such as drug absorption, distribution, metabolism, and excretion within the Pharmacological Department. Furthermore, essential courses like experimental design and clinical trials are a vital part of the curriculum and are taught within the Pharmacology Department.
Here, we present the top 5 departmental facilities that await D.Pharma students upon their admission to the top ranking D.Pharma college in Mathura.
Pharmaceutical Chemistry Department
Pharmaceutical Department
Pharmacognosy Department
Pharmacology Department
Advanced Biotechnology Department
Pick SCP in 2024 as the top ranking D.Pharma college in Mathura to get these departmental facilities and learn from the experts.