List of Top Recruiters of Top Ranking D.Pharma College in Agra
Top Recruiters of SCP @ Top Ranking D.Pharma College in Agra
At Sanjay College of Pharmacy, we have an engaging and dynamic team that includes talented, trained and experienced faculty who are genuinely committed to the success of every single student. Also, we also provide the best infrastructural facilities for placements at our college.
If you to gather more information about the placement initiatives at the top ranking D.Pharma College in Agra you can visit our website.
A Quick Walk through Today's Topics | Top Ranking D.Pharma College In Agra 
Our Training & Placement Initiatives
Detailed Info on SCP's Top Recruiters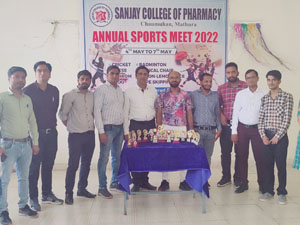 Let's talk about the lm in detail.
About College's Training & Placement Activities
Studying in India's top college doesn't mean getting a world-class education. It also means being prepared for the world around you. In India, getting a job is considered significant and it is the job that helps secure a bright future.
About Top Recruiters of the College
With placement season closing in, colleges are competing with each other to show their top ranking status to students. The placement office of the college has invited several recruiters to meet their students in order to arrange for suitable placements after their D.Pharma course.
SCP is among the most coveted institutions, with many recruiters present for recruitment. Below are some of our top recruiters.
1. Cipla
2. Apollo Hospitals
3. Patanjali
4. Cognizant, and many more.
Go with SCP when Picking The Top Ranking D.Pharma College in Agra
In the growing competition of jobs, the preparation for getting placed at a good company begins as soon as students pass out from an institute. Being the top ranking D.Pharma college in UP, our students get every possible opportunity to get trained and to get placed in reputed companies, with every sort of pre-placement activities.