Fees of D.Pharma Course in UP: Checkout Top 10 Listing for 2024
Fees of D.Pharma Course in UP: Here's 2024's Top 10 Choices
Are you feeling pressured with the question of 'Which is the best institute to do diploma course'? Which institute offer the lowest fees of D.Pharma course in UP'? 'Where I should take my D.Pharma in Pharmacy?' If you are also struggling with similar type of questions, then today's blog is for you only. We have prepared a list of top diploma institutes in UP from which you can do D.Pharma course in 2024. This way, you will not find yourself making a mistake by choosing an unranked institute!
Check out the list before deciding on any college. This way, you will know which institutes to pick without paying heed to popularity – giving you time and money back. Let's look at the list carefully and make an informed decision to pick the best institute for you.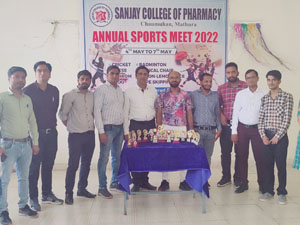 Top Institutes for with Affordable Fees of D.Pharma Course in UP
Have a look at our list of the top 10 colleges and make a decision consequently. You won't regret it!
1. INTEGRAL UNIVERSITY, LUCKNOW
2. SANJAY COLLEGE OF PHARMACY, MATHURA
3. SUNDER DEEP GROUP OF INSTITUTIONS, GHAZIABAD
4. INMANTEC INSTITUTIONS, GHAZIABAD
5. TEERTHANKER MAHAVEER UNIVERSITY, MORADABAD
6. KANPUR INSTITUTE OF TECHNOLOGY, KANPUR
7. AXIS COLLEGES, KANPUR
8. NIRMALA GROUP OF INSTITUTIONS, MATHURA
9. MANGALAYATAN UNIVERSITY, ALIGARH
10. SAM HIGGINBOTTOM UNIVERSITY OF AGRICULTURE TECHNOLOGY AND SCIENCES
Pick SCP to Study at Lowest Fees of D.Pharma Course in UP, 2024
The daunting task of choosing the right college for a diploma course in pharmacy can put almost anyone on the verge of a nervous breakdown. Thoroughly confusing, annoying and way too much information to absorb. This list makes it easy to compare all your options and find the right course in an easy way – top diploma courses, sorted by category- fees of D.Pharma course in UP.