Course Overview of Top Ranking B.Pharma College in Agra
Top Ranking B.Pharma College in Agra & Its Complete Course Overview
Pharmacy emerges as an exciting and promising field when choosing the right course after class 12th. Sanjay College of Pharmacy is the top ranking B.Pharma College in Agra that specializes in offering specialized B.Pharm and D.Pharma courses. Our courses are designed to help students learn and shape a successful career for their child.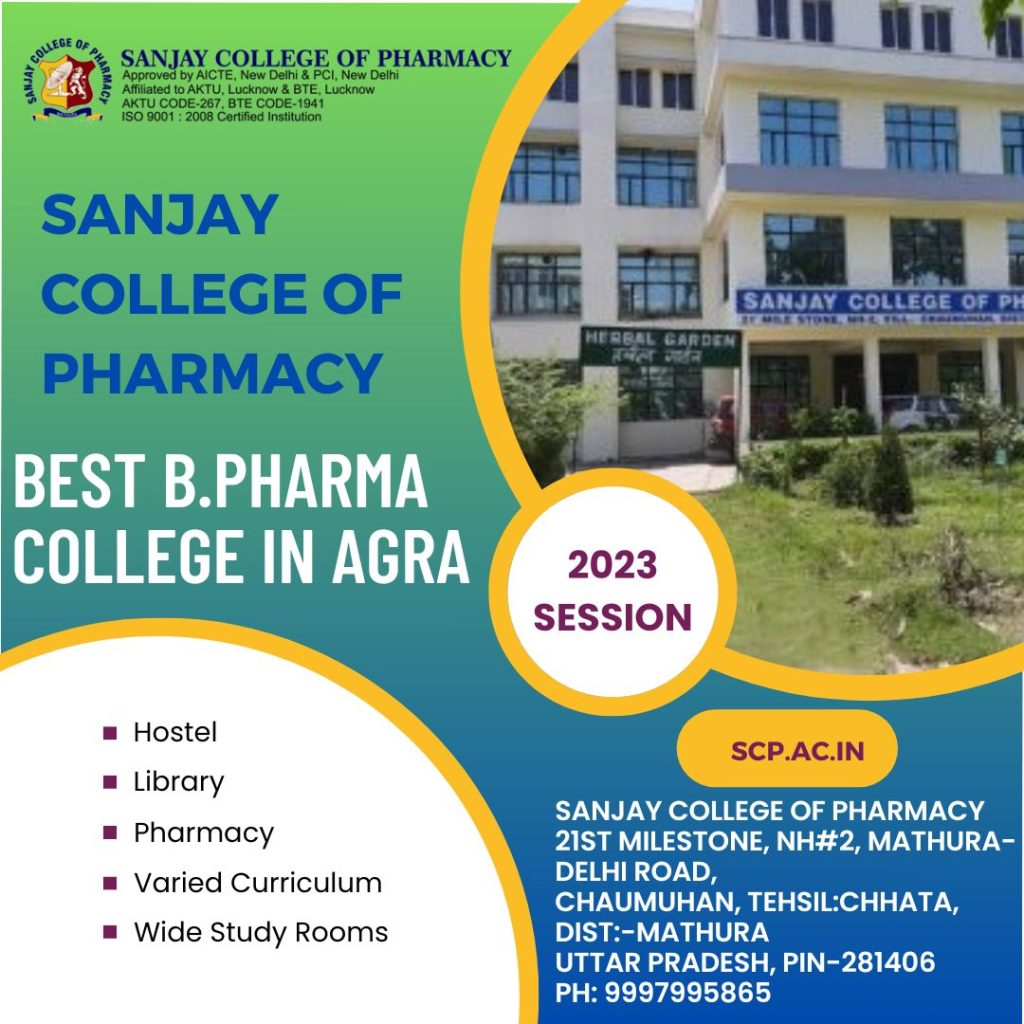 In this blog post, we will highlight why SCP stands out as the best B. Pharma College in Agra for aspiring pharmacists and the advantages of their specialized courses. So, let's get started!
1. Specialization in B.Pharm and D.Pharma:
Being the best B.Pharma College in UP, focuses on providing specialized education in pharmacy. Our B.Pharm and D.Pharma courses offer in-depth knowledge and training specific to the pharmaceutical industry. These programs equip students with the necessary skills and expertise to excel in their pharmacy careers.
2. Comprehensive Curriculum:
Our courses feature a comprehensive curriculum that covers essential subjects. It includes subjects such as pharmaceutical sciences, medicinal chemistry, pharmacology, and pharmaceutics. Students gain a strong foundation in pharmaceutical principles, drug formulation, dosage forms, pharmacokinetics, and more.
3. Practical Training:
After admission in B.Pharma College in Agra, students will learn to emphasize practical training alongside theoretical learning. Students engage in laboratory work, hands-on experiments, and pharmaceutical research projects. This practical exposure enhances their understanding and develops their drug development, analysis, and quality control skills.
4. Industry-Relevant Knowledge:
The courses at the top ranking B.Pharma college in UP are designed to meet the evolving demands of the pharmaceutical industry. Students gain insights into the latest advancements, technologies, and regulations. This industry-relevant knowledge prepares them for the challenges and opportunities that lie ahead.
ENROL TO SCP IN 2023 FOR BEST FACILITIES & AFFORDABLE FEES
Choose the top ranking B.Pharma College in Agra to provide your child with a solid foundation. It's time to give your kids a pathway to a successful career in the pharmaceutical industry.