2022 B.Pharma Recruiters @ Top Ranking B.Pharma College in UP
Top Ranking B.Pharma College in UP Announcing 2022 Top Recruiters List
Placing students in companies with well-established track records of hiring and retaining talent requires considerable effort. Companies like Cipla and Pfizer see hundreds of resumes for entry-level positions, so it can be hard to distinguish your achievements from those of other candidates. Our placement cell helps you stand out whenever you put yourself forward by ensuring the recruiters know that you're coming from the top ranking B.Pharma College in UP.
Sanjay College of Pharmacy (SCP) is one of the most coveted institutions, with many recruiters present for recruitment. Below are some of our top recruiters that visited our college.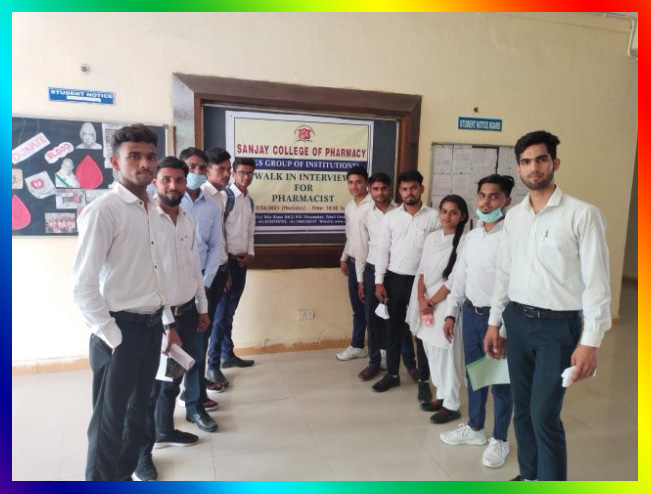 List of Top 5 Recruiters of SCP for B.Pharma Students
Your career begins here. The Sanjay College of Pharmacy has a well-established placement cell that helps guide students like you to your dream job. Moreover, our recruitment team regularly connects with recruiters from reputed Pharmaceutical/Biotech companies to facilitate our students in getting placed.
To help our students find an attractive placement, we have invited some top recruiters from the pharmaceutical industry. Let's look at the top 5 recruiters that visited our college throughout the years and recruited our B.Pharma students.
Cipla
Apollo Hospitals
Patanjali
Cognizant
NATCO, and many more
Study at the Top Ranking B.Pharma College in UP for Best Placement Facilities
Students worldwide apply to B.Pharma programs at Sanjay College of Pharmacy, which ensures a diverse and international student body. At SCP, we have a sound placement committee of accomplished recruiters, experts and career advisors who work with our specially trained students. We provide an exclusive, two-way hand-holding service to help you find the perfect job.
So, apply today to study at the top ranking B.Pharma College in UP.